Wholesale SEMAX 5MG -50vials
$1,000.00
SKU:

OR-PEP-SEMAX-5-MG-50
Wholesale SEMAX 5MG -50vials
PER VIAL : 5 mg
Price is base on: 50 vial
RAW MATERIALS ARE MADE BY THE USA
The chemicals/materials/peptides for sale here are intended for laboratory and research use only, unless otherwise explicitly stated. They are not intended for human ingestion, use, or for use in products that may be ingested.
Add to Wishlist
SKU:

OR-PEP-SEMAX-5-MG-50
Categories: Neuropeptide, Product Applications, SEMAX, Wholesale Peptide
Tags: ghrp6, IGF1 LR3 50MG, IPAMORELIN 5MG, MELANOTAN2(MT2) 10MG, MGF 50MG, OXYTOCIN 5MG, PEGMGF 5MG, peptide, PT141 25MG, PT141 50MG, PT141 5MG, SELANK 10MG, SELANK 25MG, SELANK 50MG, SELANK 5MG, SEMAX 5MG
| | |
| --- | --- |
| Product Name: | SEMAX |
|  Unit size: | 5mg |
|  CAS NO.: | |
|  Synonyms: | |
|  Sequence: | |
|  Purity: | ≥99% (HPLC) |
|  Physical State: | Lyophilized Powder |
|  Solubility: | Soluble in water or 1% acetic acid |
|  Storage: | Lyophilized peptides although stable at room temperature for 3 months, should be stored desiccated below -18°C. Upon reconstitution of the peptide it should be stored at 4°C between 2-21 days and for future use below -18°C. |
SEMAX 5mg
Selank Spec Sheet
Size/Unit
5 mg/vial
Quantity/Unit
1 kit
Physical Appearance
White
Peptide Purity
99.08%
Molecular Formula
Molecular Mass
Sequence
CAS NO.
ESI-MS
Storage Guidelines
it will remain stable at room temperature for up to 90 days. Ideally it should be stored in a freezer at or below -9C. SEMAX should be refrigerated after reconstitution.
only for research use !!
N-Acetyl Semax
N-Acetyl Semax is a synthetic analog of adrenocorticotropic hormone, ACTH 4-10, and is a heptapeptide with the structure Met-Glu-His-Phe-Pro-Gly-Pro. The Semax peptide consists of the ACTH fragment and the tripeptide Pro-Gly-Pro (PGP).
Created in Russia, N-Acetyl Semax has been observed in animal studies to have very potent nootropic, neuroprotective, neurogenic, and neurorestorative effects. As a result, it has been researched extensively in mammalian studies involving brain injuries like stroke and transient ischemic attack, disorders of the memory and cognitive faculties, as well as optic nerve disease, peptic ulcers, and immune system enhancement.
Sometimes referred to simply as Semax, N-Acetyl Semax undergoes an important transformation via N-terminal acetylation. This is performed in order to increase the peptide's stability and biological activity. Research on peptide N-terminal acetylation has suggested that the process may offer distinct advantages, including increasing the efficiency of the peptide's specific mechanism of action.
Semax Peptide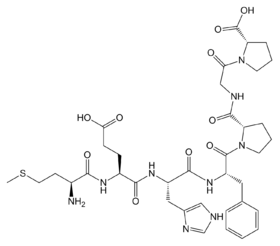 Molecular formula: C39H54N10O10S
Molar Mass: 854.97
N-Acetyl Semax Research Effects
N-Acetyl Semax's action mechanisms are not entirely clear, but research has suggested that much of its neuroprotective and restorative effects may be traced to the activation of the brain serotoninergic system in addition to increased BDNF expression in the hippocampus.
In addition, the Semax peptide is known to affect several biological processes involved in the function of various systems. The peptide markedly affects the immune response, altering the expression of genes that modulate the amount and mobility of immune cells and enhancing the expression of genes that encode chemokines and immunoglobulins. In studies conducted on rats, Semax is also observed to influence the expression of genes that promote the formation and functioning of the vascular system. As a result, it is believed that the key mechanisms of the peptide's neuroprotective effects are likely to be its immunomodulating effect and its impact on the vascular system during ischemia (inadequate blood flow).
Moreover, a 2006 study published in Brain Research concluded that the Semax peptide affects cognitive brain functions by modulating the expression and the activation of the hippocampal BDNF/trkB system. Researchers in the study analyzed the effects of Semax administration on the brains of rat subjects, observing that a 1.4-fold increase of BDNF protein levels along with a 1.6-fold increase of trkB tyrosine phosporylation levels occurred.[5] Additionally, a 3-fold increase of exon III BDNF and a 2-fold increase of trkB mRNA levels occurred in the rat hippocampus as well. This supports the view that activation of the hippocampal BDNF/trkB system is key to the action mechanisms of Semax.
Clinical Studies with N-Acetyl Semax
A recent 2017 study published in Molecular Genetics and Genomics demonstrated N-Acetyl Semax's powerful protective effect in rat subjects with ischemic brain injury (brain stroke). Researchers noted that the peptide markedly affected the rats' immune response. The Semax peptide was observed to enhance the antigen presentation signaling pathway, intensify ischemia's effect on the interferon signaling pathways, and affect the processes for synthesizing immunoglobulins. Additionally, the peptide was seen to significantly increase expression of the gene encoding the immunoglobulin heavy chain.Study researchers postulated that Semax's neuroprotective mechanism was achieved through "neuroimmune crosstalk" and newly identified properties of Pro-Gly-Pro (PGP), a component of the Semax peptide.
Moreover, further research has indicated that decreased vascular injury and enhanced mRNA neurotrophin synthesis occurs after Semax administration in rats that have suffered cerebral ischemia due to stroke. In a 2013 study, Semax was observed to have anti-inflammatory properties which manifested in reduced levels of vascular endothelial growth factor (VEGFA) in rat study subjects after ischemic brain injury.
In 2007, researchers published a paper in Medical Hypothesis suggesting N-Acetyl Semax as a potential future treatment for Attention-Deficit Hyperactivity Disorder (ADHD) and Rett Syndrome. Researchers noted that evidence gleaned from previous animal studies suggested that Semax was able to augment the effects of psychostimulants on central dopamine release while additionally stimulating central brain-derived neurotrophic factor (BDNF) synthesis.[2] Importantly, it was also noted in previous study that Semax could improve selective attention and modulate brain development. As a result, they suggested that the increased central BDNF activity as a result of Semax administration could prove highly therapeutic in regards to Rett syndrome, while noting that BDNF and increased dopamine release could also highly benefit cases of ADHD.
N-Acetyl Semax Cognitive Effects
Remarkably, N-Acetyl Semax has exhibited cognitive effects in animal studies that seem to go far beyond protection and recovery from acute brain injury. In fact, studies have shown it to have a measureable effect on animal behavior.
A 2007 study analyzed the effects of the Semax peptide on the exploratory activity, anxiety level, and depression-like behavior in white rats. While it was shown that chronic Semax administration did not significantly influence exploratory activity of the rats in a "non-stressogenic environment," it did however stimulate anxiolytic (anti-anxiety) and antidepressant effects.Researchers in the study concluded that the results gained from N-Acetyl Semax administration may be traced to the activation of the brain serotoninergic system as well as to increased BDNF expression in the hippocampus.
In addition, the Semax peptide has been shown to reduce memory and learning deficits in rat study subjects treated with amphetamines in utero. In this study, published in BMC Pharmacology, it was observed that Semax induced delayed memory deficits and significant learning impairments in juvenile offspring of rats.Therefore, researchers concluded that the peptide may lead to a significant recovery of the memory functions of brain-damaged rat subjects, opening new approaches for neuroprotection and cognitive rehabilitation of prenatal brain damage.
Further, a 2001 study examined the effects of N-Acetyl Semax administration on subjects with glaucomatous optic neuropathy, an eye disorder. Intriguingly, it was shown by electrophysiological and computer methods of examination that the Semax peptide outperformed traditional neuroprotective treatments for glaucoma. Researchers concluded that the success of Semax was due to its powerful neuroprotective and neurotrophic effects, further demonstrating the potent healing effect the peptide seems to exhibit on the neurological system.
Further Protective Effects
The neuroprotective properties of Semax peptides have been demonstrated in animal studies to protect against damaging effects of heavy metal poisoning as well. A recent 2016 study published in Doklady Biological Sciences observed the effects of Semax on heavy metal poisoning in rats compared with ascorbic acid. Researchers established that heavy metal salts inhibited the avoidance response in rat subjects, and that Semax counteracted this effect as strongly as ascorbic acid. As a result, researchers confirmed the peptide's antioxidant properties.
Moreover, the N-Acetyl Semax peptide has been shown to moderate the effects of copper cytotoxicity in animal studies as well. Researchers in a 2015 study published in the Journal of Inorganic Biochemistry noted that Semax exhibits marked neuroprotective activities on cognitive brain functions. Dys-homeostasis of metal ions is involved in several neurodegenerative disorders, so it was hypothesized that N-Acetyl Semax would be effective in mitigating these disorders.Ultimately, they found that a reduced copper induced cytotoxicity was indeed observed following Semax administration.
Certainly, clinical study has shown that N-Acetyl Semax's possible therapeutic value may well extend beyond mental and cognitive disorders. In a 2002 study published in the Bulletin of Experimental Biology and Medicine, researchers studied the effects of the Semax peptide on healing peptic ulcers. Remarkably, it was observed that ulcer healing occurred in 89.5% patients receiving intranasal Semax compared to just over 30% in the control group. Researchers did note that further study of Semax in different combinations with common antiulcer drugs was needed, but these findings proved quite promising for future therapeutic applications.
OUR WAREHOUSES are in Europe, USA, SINGAPORE, VIETNAM, THAILAND, UK, MALAYSIA

24×7 online customer services 

HPLC and MS records for all of our products

The R&D center in the USA
OVER two decades experience in chemical and peptide industry

Producing as OEM /ODM with our customer labels

Accepting different currencies

98.3% customer satisfaction in two decades
Shipping
Our delivery solutions are as follow:
– Via Express services such as FedEx, EMS, DHL, TNT, USPS priority, UPS
– E-Commerce post service from the USA , Europe, Hongkong
– International Air freights for heavy packages over 50kg
– International ocean and rail freight for heavy packages over 200kg
ORANGE PEPTIDE FACTORY & LAB
OVER 10000 M2 production plant
We provide high-quality peptide synthesis service with a 99% peptide synthesis success rate, which is well above the industry standard of 75%. We are committed to Total Quality Management (TQM) to ensure our customers' complete satisfaction. TQM includes MS and HPLC analyses performed after the completion of peptide synthesis, purification, and QC (quality control) steps. These analyses are followed by independent QA (quality assurance) procedures, which double guarantee the highest quality possible for every delivered peptide.
A peptide that I purchased recently has less powder in it than others I've gotten. Does this mean it doesn't have the right MG?
Peptides due to their nature come in a variety of sizes and shapes. Normally after the lyophilization process has completed we have a peptide that is in a perfect cake. However, there are times when it may break in transit or simply appear differently. This is no way affects the quality or potency of the product. It is simply an aesthetic issue. While we do try to always present a product that looks perfect, on occasion, this isn't possible. Proteins such as IGF1 are very large in size and due to the requirement of a buffer will appear larger in size than a bpc157 or pt141. This is also normal.
What are the Purity Levels Of the peptides you Sell?
We will never sell a peptide that is less than 98% in purity from our catalog section. Many of our smaller peptide chains are well into the 99% purity range. We have manufacturing abilities that are quite often beyond the scope of smaller companies and therefore are able to achieve very high purity levels. Proteins such as IGF-1 LR3 are always receptor grade and always above 98% purity.
What are your products used for?
Peptides and Research serums are manufactured and sold to be used in a laboratory research setting. None of our products are intended for, nor are they manufactured for, diagnostic or therapeutic purposes in humans. Strong Peptide reserves the right to require additional verification of proper intent prior to fulfilling orders. Any orders that we feel aren't for the specific intended purpose laid out in our Terms and Conditions will be denied.  Truthfully, if you are asking this question then you shouldn't be ordering from us.
Will you test your powders after production?
Yes, We will test per batch in our laboratory, we will have HPLC, MS record for all of our products. We will check our peptides vial by vial before delivery.
Do you have GMP lab ?
Yes, we have GMP lab, and we have a fully automatic production line. We could produce all of our peptides with the automtic sealing machine. We are able to offer vacuum sealed vials.
Do you have wholesale prices?
We have special prices for our distributors and wholesale customers. We could produce as OEM with customized box, label, cap colors, For more information please contact us
Related Products
You could select the bellow products
$

5,000.00

Wholesale ACE083 10mg -500vials

PER VIAL: 10mg

Price is base on: 500 vial

The chemicals/materials/peptides for sale here are intended for laboratory and research use only, unless otherwise explicitly stated. They are not intended for human ingestion, use, or for use in products that may be ingested.